uCon HomePage
SYSLOG Server
---
A very basic SYSLOG server is provided by uCon. The menu item Servers->Syslog produces the following dialog box...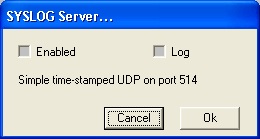 The server supports basic network logging through syslog. The current implementation is simply a server running on UDP port 514 (or whatever port the user specifies) that dumps a time-stamped copy of each incoming packet to the system trace window.
The Log checkbox will cause all syslog output to also be directed to all (i.e. any) logging that may be enabled with uCon at the time.
The ToConsole checkbox will cause the incoming syslog data to be displayed on the console window instead of the default trace window.